Who is Jenny?
Our company frequently receives certification and course completion requests from hiring professionals. One recent inquiry is listed below.
The following inquiry came from a Captain in the US Army.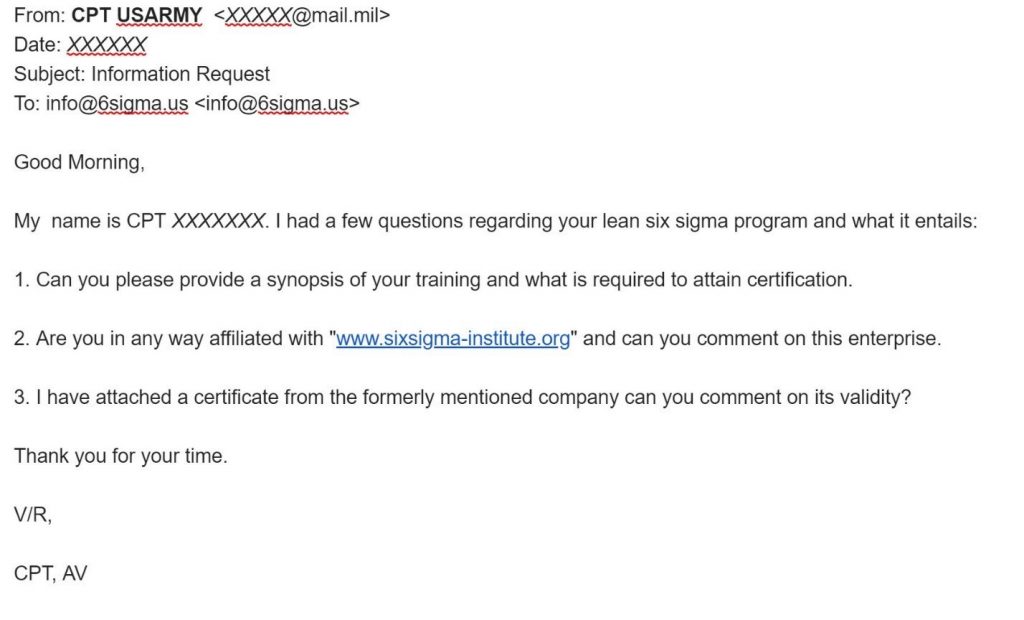 After reviewing the certificate and the related website the Army officer sent to me, I replied:
"So, if you think that $99 will get you an MBA is okay then I would consider the certificate you provided to be of similar value." I should have also included the company advertises, "Get [MBA] certified in only one hour."
See their MBA advertisement on YouTube here. (Note the current price is listed as $597 for MBA. I have seen other certificates as low as $29 but prices are up now.)
The Officer replied:

After much research I found the LinkedIn profile of Jenny Evans. It indicates that Jenny Evans is the Lead in Operations for a number of certification programs. In all the programs, there are various certification options to choose from and there is a 100% money back guarantee if you fail your exam. Jenny Evan's LinkedIn profile includes a link to videos which state for each of the various certifications, "Get certified in only 1 hour."
International MBA Institute™ – Showing 370 results in LinkedIn search
International Scrum Institute™ – Showing 17,886 results in LinkedIn search
International Six Sigma Institute™ – Showing 2,915 results in LinkedIn search
International DevOps Certification Academy™ – Showing 327 results in LinkedIn search
International Organization for Project Management™ – Showing 895 results in search
International Software Test Institute™ – Showing 409 results in LinkedIn search
Looking at Jenny's LinkedIn profile, I found her profile image is a Getty Stock Image number 463765449 of a Danish woman taken in Denmark. I contacted MIT to validate the profile claim of a BS Degree in Computer Science and MBA both from the Massachusetts Institute of Technology (MIT), and in both cases the MIT degrees could not be validated by the person I talked to. Jenny also promotes the institutes' websites and is active on all the LinkedIn pages of these institutes. Jenny frequently congratulates recent certificate graduates from the listed institutes and has her own hashtag.
Listed to the right of the institute type above is the number of results in a LinkedIn search. There are thousands and thousands of people listing on their profiles these "1 Hour" certification programs. So why take weeks to complete training and several projects when you can be Six Sigma Certified Master Black Belt in 1 Hour from International Six Sigma Institute™? One person told me it actually only took just 17 minutes for them.
All of us need to do our diligence when considering who to do business with from online businesses. A reverse Google or tineye.com image search can be very informative.
This is just one example of many other similar certification sites out there.
The website of each of the above-referenced certification programs states that the name of that program is a trademark of the program which goes by the same name.
Update: LinkedIn removed Jenny's profile on May 14, 2019.