Hello, I'm Peter Peterka
Peter Peterka is a Master Black Belt of Lean Six Sigma with extensive experience across multiple industries. As the Principal Consultant in practice areas of DMAIC and DFSS methodologies, Peter has 20 years' experience performing as a Master Black Belt and an additional 25+ years' experience as an expert-level improvement specialist and engineer. Having worked with numerous companies, including 3M, Dell, Dow, GE, HP, Intel, Motorola, Seagate, Xerox, and even the US Men's Olympic Team, Peter is a highly respected Process Improvement expert. Holding an MS degree in Statistics from Iowa State and a BS in Chemical Engineering from Purdue, Peter worked for 3M for over 10 years and gained extensive experience in applying Lean Six Sigma Methodologies to a variety of processes.
Peter has successfully developed several Lean Six Sigma deployment strategies and training courses for Product and Process Development, Manufacturing and Business Process Improvement. His broad experience with numerous technologies has also helped him gain insight on how to apply Six Sigma methods to Business Processes. According to Peter, managing quality is something that every business must focus on. However, without the right measurement tools, you cannot manage anything. Management requires access to a considerable amount of information on which to base decisions. Peter firmly believes that without that information, any decision made is nothing more than a "blind guess". And we all know that's particularly true when it comes to quality management for products or services. Peter's promotion of Six Sigma as a quality management tool to ensure that your products or services are optimum, is ever justifiable in the light of his expertise.
Having traveled extensively to lead international projects in numerous locations worldwide, Peter has devoted much of his time to Six Sigma Deployment by doing workshops for managers, business analysts, engineers, process, and product developers. He has furthermore developed and presented numerous waves in Six Sigma and workshops in the Design of Experiments, Mixture Experimentation, Statistical Process Control, Test Method improvement and development, Statistical Thinking, and Business Process Charting.
Peter is by heart, a firm believer in Kaizen and Rapid Improvement as a proven performance improvement method. He endorses that Kaizen is an efficient, effective technique for producing change in manufacturing operations. He also maintains that even transactional and government professionals can and do have a wide range of Six Sigma-related responsibilities on the job – as contrary to general belief. Peter's passion and focus in life revolves around how the Lean Six Sigma method can benefit any organization. He has also written and published a number of high-quality articles, and currently serves as the Founder and President of Global Six Sigma LP – a world renowned Six Sigma training and consultation firm with steady roots across the globe. Regarding his teaching abilities, Peter has been described as an "excellent instructor with awesome knowledge in continuous process improvements within six sigma methodologies." According to program attendees, Peter's approach throughout the training is known to be fun and insightful, and his support offered outside of training comes highly valued.…. Read More
My Publications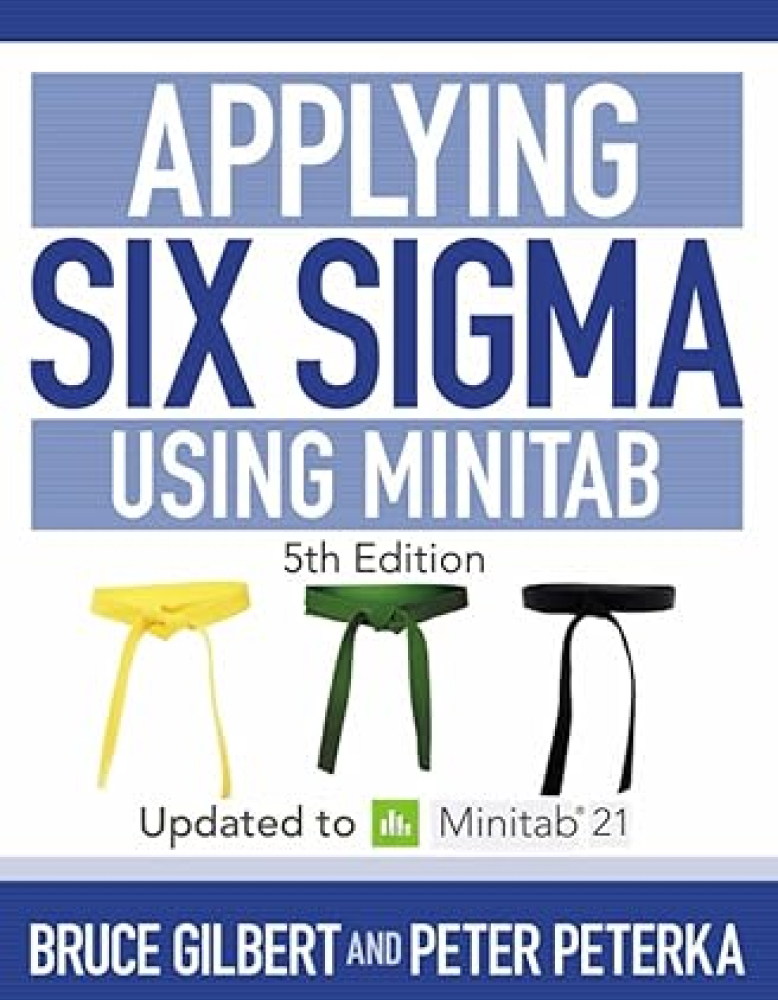 ★★★★★ 4.8 out of 5, by Peter Peterka, Bruce Gilbert
The Six Sigma process improvement methodology demonstrates the critical importance of properly collecting and analyzing data. From its roots in the manufacturing environment, the power of Six Sigma has found its way into virtually all areas of business – regardless of product, service, industry, or profession. Companies everywhere are recognizing that they can save money using Six Sigma.

Minitab statistical software, which has been used since the 1970s, has consistently proven to be effective in analyzing data in the context of Six Sigma methodology. Filled with figures and written in easy-to-understand language, this manual will help you:
* use Minitab's functions to follow the DMAIC (Define, Measure, Analyze, Improve, Control) roadmap;
* minimize the use of equations in explanations of data analysis;
* maximize your understanding of Minitab's data analysis outputs.

There are different Minitab screens that are used to create graphs and perform data analysis, and you'll also learn how to create these graphs and enhance displays for presentation purposes.

Whether you're just learning Six Sigma or need a refresher course, Applying Six Sigma Using Minitab is a reference you'll use time and again to complete projects, save money, and accomplish your goals.

BRUCE GILBERT and PETER PETERKA are instructors with 6Sigma.us. They have taught thousands of students worldwide and continue to enjoy the challenges of creating an instructive and fun classroom environment. Learn more about their public classes at 6sigma.us.…. Read More
What Readers are Saying
Stylianos Pashiardis
★★★★★ 5.0 out of 5 stars, Reviewed in the United States on June 26, 2018
I found them useful in terms of practical applications using Minitab
Gary S. Netherton
★★★★★ 5.0 out of 5 stars, Reviewed in the United States on 8 January 2016
I gave it a try and was not disappointed! The book thoroughly covers Minitab's commands
Adamson Mukhalipi
★★★★★ 5.0 out of 5 stars, Reviewed in the United States on 27 April 2018
I love it though it has been difficult to access the ...
Glimpses